Tripod Rock Spiritual Energy Vortex
& Summer Solstice Observatory
Tripod Rock URL - www.tripodrock.org
Index:
Introduction
Summer Solstice Sunset
Images
Directions
Contact & Links
Support LifeSpirit - Affiliate Links
* Sioux term meaning "We Are All Related in the Sacred Hoop of Life."
---
Tripod Rock is a hundred seventy ton "glacial erratic" which perches atop three smaller boulders on the side of Pyramid Mountain, Morris County, NJ. It has been considered a spiritually significant site by local people for hundreds, if not thousands of years. The Rock is the largest of this type in the eastern USA. It sits somewhat south of the terminus of the last major glacier, thus, it dates back at least two glacial cycles, or over 100,000 years. The local legend is that it was levitated into position by Native Medicine.
The Rock is on an outcropping of bedrock and forms one focus of a rough oval of "ten foot" boulders. The other focus is another outcropping of bedrock. There are two smaller boulders in the oval which are, themselves, propped into position by smaller rocks.
Back to Top.
---
The Summer Solstice Sun sets between the marker rocks as sighted from the second bedrock outcropping. It is said that the Tripod Rock Spiritual Energy Vortex reaches maximum energy at this time. Every year at the Solstice hundreds of people are drawn to the site for a spontaneous sunset observance. While this pilgrimage is listed on several new age and neo-pagan sites, it remains a truly spontaneous expression of native spirituality and is not coordinated or sponsored by any organization, including LifeSprirt Center.
We ask that all participants treat this wonderful natural site as an open-air Temple and respect its quietude. It is an extraordinary place to meditate, manifest and pray.
Think, then, of the Shamans who have preceded you at this Sacred Place, for the eons that it has been a Source of Spirit. Connecting to this Place is also possible by meditating with photographs of it and by remembering that all places on this precious Earth are sacred.
All Circles are One Circle.
---
Spiritual Energy Vortex
People who are sensitive to such energies state that they experience a strong sensation of peace and power at the site. It is considered to be part of a ley line connecting to the Montauk pyramids and then to the ancient site of Atlantis. As people once again approach Tripod Rock with reverence and love, the Energy Vortex is powering up for the needs of a New Age.
On a memorable (and stormy) Fall Equinox evening in 1995, representatives of certain Elders of the local Native People (with some LifeSpirit new agers tagging along) spiritually cleansed the energies of the site, reopening the protective vortex after centuries of desecration. It is said that the "black magic" that broke the site's protection several hundred years ago also broke the protective ley line across Long Island and into the Atlantic, allowing the invasion of Turtle Island (North America) by Europeans.
When descendents of both sides cleansed the energies, returning certain cult objects to the site, a powerful Act of Reconciliation occurred, permitting, once again, the reopening of the energies of this Sacred Place.
Only Love Prevails, Peace Prayers & Vigils.
Back to Top.
---
You can reach the Rock by taking Interstate 287 to the Main St. Boonton exit, then head west about a half mile to Rte. 511 (Boonton Ave.) and then north several miles to Pyramid Mountain County Park which is on the left by the former Mars Industrial Park on the right. There are good maps available at the Park Office and the trails to the Rock are well blazed.
The easy hike to the Rock takes about a half hour. If you make the Solstice Pilgrimage, remember to carry a flashlight for the hike back. The park officially closes at sunset so you may want to park across the road.
Map of trails available at: http://www.parks.morris.nj.us/parks/pyrmtnmain.htm
Our thanks to the many concerned local citizens whose efforts have preserved Pyramid Mountain and Tripod Rock for future generations. May the spiritual energetic blessings flowing from the Rock bring protection and enlightenment to all beings.
Back to Top.
---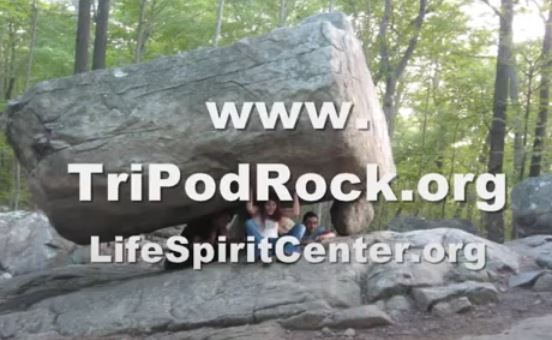 ---
Please email (with Tripod Rock in the subject line) additional information about the Rock, including your experiences with it, so that we can update this page. If you want to link to this page, please use www.tripodrock.org. Thank you.
Link to the Morris County Park Pyramid Mountain site: http://www.parks.morris.nj.us/parks/pyrmtnmain.htm
Contact us: LifeSpirit Center
Ralph Fucetola, JD
ralph.fucetola@usa.net

Back to Top.
Only Love Prevails, Peace Prayers & Vigils
LifeSpirit Center home page, http://www.lifespiritcenter.org/
LifeSpirit Organization main page, www.lifespirit.org
To www.witchvox.com

LifeSpirit Organization
www.lifespirit.org
SUPPORT LIFESPIRIT AFFILIATIONS - SUPPORT LIFESPIRIT!
This site hosted on the net by LifeSpirit Center
From LifeSpirit Center
www.NaturalHealthOptions.net

---
You can securely Donate to LifeSpirit through PayPal
or support us by patronizing our affiliates.
Said the Christ of the Gnosis:
"If you bring forth what is within you, what you bring forth will save you.
If you do not bring forth what is within you, what you do not bring forth will destroy you."
Tapping to Release Emotional Trauma
Emotional Freedom Technique
EFT
---
---
Buy from Amazon through LifeSpirit.
Buy from Life Extension Foundation
through LifeSpirit,
Insider Health Information
BioAcoustics nanoVoice™ Freeware!
Sample Program for Everyone to Download
Click Here!
Will you be amazed by what you learn?


---
This site makes no representations regarding these links. See sites for details.
LifeSpirit Site Use Statement - http://www.lifespirit.org/sus.html
NOTICE: NJSA 45:9-21 exempts "the ministration to, or treatment of, the sick or suffering by prayer or spiritual means, whether gratuitously or for compensation, and without the use of any drug material remedy..." The information on this site is not to be considered advice or a substitute for current medical treatment. It is intended to help you make positive informed decisions about your health. We make no claims whatsoever expressed or implied of any cure or for any disease. These statements have not been evaluated by the Food and Drug Administration; not intended to diagnose, treat, cure or prevent any disease. Benefits are recommended based upon traditional uses and are not generally recognized as substantiated by competent and reliable scientific evidence. Devices and nutritional or other products are not offered to diagnose or prescribe for medical or psychological conditions nor to claim to prevent, treat, mitigate or cure such conditions, nor to recommend specific products as treatment of disease or to provide diagnosis, care, treatment or rehabilitation of individuals, or apply medical, mental health or human development principles, to provide diagnosing, treating, operating or prescribing for any human disease, pain, injury, deformity or physical condition. Any use of devices is experimental and based upon your informed consent and private license. Testimonial results are not typical and your results may vary. The information on this site is not a substitute for medical advice from your primary care physician.

NOTICE: The Herein Private, Privileged and Confidential Message or Other on behalf of LCC' and or Members' is to be considered printed in the color of red ink, equals, = private..., and is for discussion only; and is lawfully privileged..; NOT INTENDED FOR USE BY PUBLIC FICTIONS THAT RECEIVE IT. LCC\Universally. . . States that all Forces.. Dimensionally.. and Otherwise.... Provide LCC and Its Members... Who so Choose... Peace.., Wellness... Happiness.., Protection.., Prosperity.., Wealth.. Now and Forever...:: Three Clap Technique - Hidden Rune
---
Powered by counter.bloke.com
ã 2001, 2002, 2003, 2005, 2006