BIOACOUSTICS FREEWARE FOR ALL!
<![if !supportLineBreakNewLine]>
<![endif]> From the Sound Health Research Institute
www.soundhealthresearch.org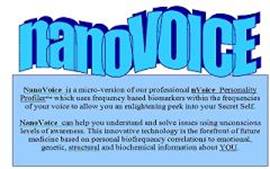 You may not be surprised by what the nanoVoice software reveals about you...
What will be surprising is that a computer program can tell so much about you from
a tiny sample of YOUR VOICE.
AS FEATURED ON BBS INTERNET RADIO!
www.bbsradio.com
Sharry Edwards, MEd, founder of Human BioAcoustics Vocal Profiling would like you to be among the first to share this amazing gift with your listening audience. nanoVoice™ is Freeware soft ware - no strings attached ! it is a computer program that can be downloaded by anyone from www.nanovoice.org .
This program will give you insight into personality and true inner selves for anyone where you have a computer voice sample. Most people find that it affirms what they have already secretly understood about their personality. The surprise is that is also confirms that YOUR VOCAL frequencies contain information about YOU. This is the beginning of Advanced Health... and freedom from the illness industry.
BBS Radio was so excited by this that it has created a link to Sharry Edwards' nanoVoice program on the front page of its web site. If you are interested in creating a nanoVoice link on your individual web pages, you may do so, with attribution to www.nanovoice.org and Sharry Edwards, MEd., IP creator.
Ms. Edwards can be reached through the Sound Health Research Institute, Albany, Ohio. Please contact Heather Baker, Media Coordinator, at 740.698.9119 or at heather@vocalprofiling.com
© 2008 - Posted on the Internet by Lifespirit Congregational Church
www.lifespirit.org
Disclaimer: Human BioAcoustics, as originated by Sharry Edwards, M.Ed., does not diagnose or prescribe for medical or psychological conditions nor does it claim to prevent, treat, mitigate or cure such conditions. HBA researchers do not provide diagnosis, care, treatment or rehabilitation of individuals, nor apply medical, mental health or human development principles.