Divination is the ancient art of ascertaining potential future states from a sampling of the current situation.



The neolithic shaman's random rolling of the knuckle bones, for example, resulted in a unique sign that stands in a relationship to the future state of the one who offers the question. We question the future and the divine responds through a random configuration in the present.

During the time of my active ministry in LifeSprit Congregational Church I've had a great interest in traditional divinatory methods, starting with the I Ching in the 1970s. During the last two decades of the 20th Century I publicly practiced divination, most often at the Holistic Fairs then held yearly in Morris County, coordinated by LifeSpirit ministers Nancy Orlen Weber and Dick Weber (Lightwing Center). The method I used during that period was dvination through the Nordic Runes (the Elder Futhark). Reading various works by and about Jung and others helped me understand the power of the Runes in future-casting.

It was from Jung's teachings about sychronicity that I developed my understanding of the nexus between the random "fall of the cards" (or Runes, bones, yarrow sticks or whatever) and the current energetic configuration, regarding the question at hand. It doesn't really matter what method is used, so long as the element of randomness prevails.

In recent years I've made use of a web site, www.Facade.com which provides random readings in a half dozen modalities, including the Tarot, I Ching and Runes. Sharing computer screens with the subject of the reading we explore the potential meanings of whichever method is chosen. Among the more interesting sessions are those in which the same question is posed through several of the methods.

This type of comparing data is similar to the method Maj. Gen. Bert Stubblebine (US Army, Ret.; co-trustee with me at Natural Solutions Foundation) developed to verify the information his remote viewers were showing him. He'd have several viewers target the same coordinates and then extract the common information from all. Yes, divination is a type of remote viewing. This page links to a 50 minute presentation by General Bert on Remote Viewing: http://drrimatruthreports.com/?p=24009

While I love using traditional divination methods, they've come to seem to me to be limited by the inherent duality of the methodologies.

Many years ago I read an article in Scientific American about logic systems. The two-value system of True and False was compared to the three-value system, True, Indeterminate (Maybe) and False. In the first everything must be either True or False; in the second, there are over a half dozen possibilities... a wider universe of potentals. Here is an example of what our friend and frequent house -guest from the 1980s, Robert Anton Wilson, called "Maybe Logic."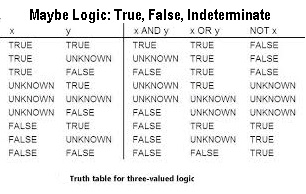 We live in a universe which is indeterminate. Thus, a better system of divination would take into account those questions which can be neither True nor False, or both True and False, thus Indeterminate.



Indeterminancy is at the very heart of modern understanding of the physical nature of the Universe. The random processes at the quantum level are driven by it; the very idea of the quantum (the minimum possible quantity) gives rise to a "grainy" reality in which no exactitude exists. True and False are, at the base, illusions. All is Maybe.



Such musings led me to seek a way of divining that took into account the tripartate nature of veracity. How to bring Indeterminancy into the equation? How to discover a three-valued divinatory system?



The coming-into-being of readily accessable (pseudo) random number generators with the development of personal computing allowed me to consider how a system of Trimancy, Divination by Threes, might look.

Using random number generators it is possible to mimic any divinatory system, or, as done in Trimancy, extend the possibilities. I copied and modified some symple html code that generates various random numbers within certain ranges. This gave me the capacity of creating a series of random words that write themselves into a Trimantic Sentence. The words are grouped into threes in various ways, either True, False or Indeterminate.

Each Indeterminate term is then further processed (by refreshing the screen), generating further words for the Trimantic Sentence, in order, until there are no further indeterminate terms. The resulting Sentence is interpreted. The Trimantic Words are tri-letter root terms in a made-up (perhaps more correctly,

channeled

) language.

The coding has been embedded with use instructions and with the Three Lists of Trimantic Words.

This is all posted here: www.LifeSpirit.org/trimancy.html -- when this page is opened, a series of six numbers is randomly generated...



The next step is the subjective art of interpretation.



"Roll the dice..." of random connections and let us know how you experience Trimancy, Divination by Threes.



Here is the link to the Trimancy Facebook Page:

https://www.facebook.com/Trimancy-1104876119523133



Rev. Esnur



PS - Backstory: every divinatory method has a backstory. Ultimately, though, the Source of Divination is the Divine. In the case of Trimancy, your humble scribe discovered the method and discovered the backstory, the

Shaman's Song

. You can delve into that here: http://shamansong.weebly.com/