LifeSpirit Wedding Ceremonies
Non-Denominational
Personalized Marriage Rituals
Home Page - http://www.lifespiritcenter.org/
Kathy Greene Fucetola and Ralph Fucetola, Co-Pastors
LifeSpirit Center - Newton, NJ - lifespirit@usa.net
Available for Wedding Ceremonies
DC, North/Central Jersey, NE Pennsylvania, Lower New York State & Eastern CT
Web Page Index:
Introduction - Sample Service - Wedding Checklist - Reserving Services - History - Support Lifespirit
I have been a licensed and ordained Minister since 1974. I have officiated at hundreds of weddings in many beautiful locations. I have authored, with the participants, many varied wedding ceremonies. Often these weddings are non-denominational and are cross-cultural. As one widely used introduction to the wedding service says,

"Though times and people may change and old traditions give way to new, the reasons for celebrating remain the same. And so, in keeping with the spirit of our age-old wedding traditions, let us all share in the happiness of this moment and join together to make this a truly memorable wedding celebration…"

Like the other major parts of a wedding celebration – the hall, the cake, that special dress, the wedding ceremony itself needs to be planned in advance. As a minister, I have many weddings to perform and have to schedule them well in advance.

If you would like me to officiate at your ceremony, please let me know by return email. You'll need to reserve my time about as far in advance as the reservation of the hall. Our fee for the ceremony is $600 plus mileage from the LifeSpirit Parsonage in Newton, NJ. We need a $100 reservation fee (deducted from the ceremony fee). The reservation fee allows me to schedule the wedding well in advance and permits us time to communicate on personalizing the ceremony. You will receive a keepsake copy of your ceremony with our Certificate of Marriage.

Please let me know how I can help.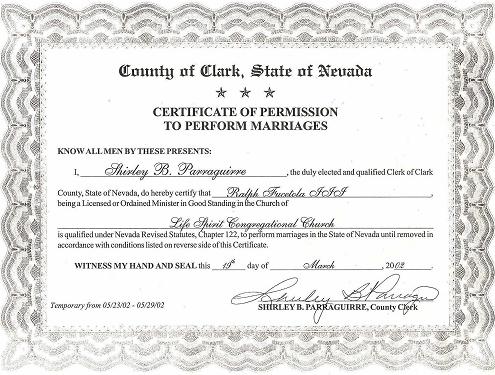 1. Set the date
2. Reserve the hall, catering, etc.
3. Reserve the minister's time
4. Arrange for the wedding clothes, invitations, decorations
5. Plan the details of the ceremony with the minister - see Sample Ceremony
6. Obtain the marriage license from bride's home town at least several weeks in advance!
7. Go over final wedding service plans with the minister (Rehearsal time can be arranged if needed; $100/hr.)
8. Bring Rings and Marriage License to ceremony.
9. Complete license form and Certificate of Marriage at ceremony.
10. Celebrate!
We are a non-denominational religious organization and our religious services are available to everyone, regardless of ethnicity, race, religious background, nationality or sexual preferences. You do not have to become a member in order to have us perform your Wedding Ceremony.
In 1974, after a series of private Symposia at the University where several of us were or had been students, a small group of incipient New Agers formed what has become the LifeSpirit Congregational Church -- the LifeSpirit Collaborating Congregations or LifeSpirit Organization. Founding trustee Ralph Fucetola (biogrf.htm), was, at that time, beginning a law career, representing small churches, holistic practitioners, alternative enterprises and political or social dissidents. Founding trustee Kathy A. Greene (biogkag.htm) was beginning her exploration of alternative modalities.
These activities continued as the ministry grew. Our exempt status was recognized in 1975 and a Group Exemption was issued in 1976. The LCC currently includes a half dozen active congregations, providing New Age teaching and ministerial services, and such religious activities as Marriages, Memorials, Namings and traditional Solstice and Equinox celebrations. At the same time, our personal spiritual quests continue and broaden as New Age phenomena evolve. The Spirit of Life quickens as we enter the New Millennium. For information on becoming a LifeSpirit Minister Practitioner, see: LCC-minister-application.htm
Further information on our history: history.htm
Some Links to LifeSpirit communicants & others involved in ministerial or alternative services:
lsclinks.html
lscconnect.htm
lscservices.htm
© 2001, 2002, 2003, 2004, 2007, 2008, 2009